Our Partners for Scientific Image Acquisition
The new ORCA-Flash4.0 V3 expertly handles acquisition of scientific images of experiments demanding accurate detection, quantification and speed. On-board FPGA processing enable intelligent data reduction, highly refined in-camera, pixel-level calibrations, increased USB3.0 frame rates, purposeful and innovative triggering capabilities. Patented light sheet read out modes and individual camera noise characterization the make ORCA-Flash4.0 V3 an excellent choice for a precision instrument for imaging.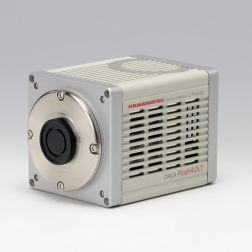 With 2× the speed, 3× the field of view and up to 5× the signal to noise of the best interline CCD cameras, the ORCA-Flash4.0 LT brings high end to your imaging project. From brightfield to fluorescence, from live cell to fixed tissue, from routine to ground-breaking, the ORCA-Flash4.0 LT is the new workhorse digital camera. The ORCA-Flash4.0 LT shines with the most experienced implementation of Gen II sCMOS technology, and realizes the long-awaited promise of luxury CCD performance at affordable CMOS price.
The ORCA-spark is a high-sensitivity digital CMOS camera using a 2.3 megapixel sensor. With a global shutter a high-speed readout of 65 frames/s can be reached, making it ideal for imaging fast moving objects in living cells. The ORCA-spark delivers readout noise levels as low as 6.6 electrons, enabling imaging with high S/N ratio even when capturing images of dark objects.




Prime 95B™ Scientific CMOS Camera
Prime 95B Scientific CMOS camera allows you to overcome many difficult imaging challenges by converting nearly every available photon to useful signal through an incredible 95% Quantum Efficiency – by using the first available scientific CMOS sensor with backside illumination. The Prime 95B is available with advanced real-time processing features.

Prime BSI™ Scientific CMOS Camera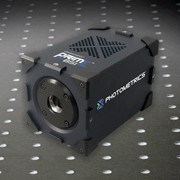 High Resolution BSI Scientific CMOS. Prime BSI delivers the perfect balance between high resolution imaging and sensitivity with near perfect 95% Quantum Efficiency. 6.5μm pixels captures highly detailed images at high frame rates. Prime BSI has a 100% pixel fill factor which results in a 30% increase in sensitivity over previous sCMOS cameras.

Iris 15™ Scientific CMOS Camera
The Iris 15 Scientific CMOS camera is designed with a large field of view for live cell microscopy applications. Its 15 megapixel sensor and 25 millimeter field of view provides extremely high-resolution images over a large imaging area. It is the only camera that provides high resolution with video rate acquisition speeds, ensuring dynamic cellular events are properly captured and documented.
With the Lambert Instruments FLIM Attachment (LIFA), you record quantitative lifetime data in a matter of seconds. It's easy to connect our FLIM camera and light source to your microscope. And our specialized software records the images, analyzes the data instantly and presents the results visually for easy interpretation.
PROMICRA company produces microscope imaging software and equipment for microscopes: USB 3.0 cameras, motorized stands, LED illuminators, and DSLR adapters.
QImaging develops scientific cameras for life science research imaging. QImaging cameras are versatile and easy-to-use, giving scientists and researchers the performance they need for the best possible value.

Basler offers you a large selection of industrial and network cameras and accessories for applications in factory automation, traffic systems, retail as well as medical and life sciences.